Movie Review: Me and My Mates vs. the Zombie Apocalypse
by Matthew Scott Baker | Jun 16, 2016 | Zombie News |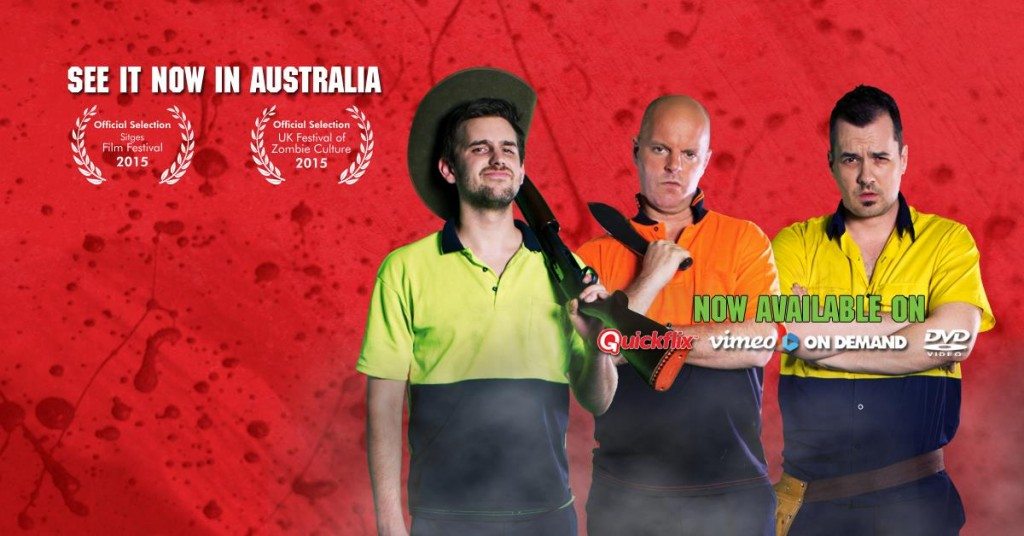 etrieved Article:
http://www.buyzombie.com/2016/06/16/undead-news/movie-review-me-and-my-mates-vs-the-zombie-apocalypse/
Me and My Mates vs. the Zombie Apocalypse Directed by Declan Shrubb Courtesy of Lightyear Entertainment DVD Release Date: July 5, 2016
I never tire of seeing what comedic mayhem filmmakers can think up for horror comedies. And what better source material to use than one of my favorite horror staples, a zombie apocalypse. I've seen many U.S. and British zombie comedies, or "zom-coms", however I've never seen one from Australia. Come to think of it, I don't think I've seen any horror comedies from Down Under, so ME AND MY MATES VS. THE ZOMBIE APOCALYPSE is a real treat for many reasons.
I'll state this right up front: ME AND MY MATES VS. THE ZOMBIE APOCALYPSE is a blast, and I highly recommend giving it a look. If you like films like SHAUN OF THE DEAD and COOTIES, then this one is right up your alley. Chocked full of top-notch humor and great gore, this is one zom-com you'll want to revisit again and again.
If you are not familiar with ME AND MY MATES VS. THE ZOMBIE APOCALYPSE, here is the plot synopsis courtesy of Lightyear Entertainment:
Three Australian telecom tradesman find themselves trapped in a telephone exchange during the onset of a zombie apocalypse.
ME AND MY MATES VS. THE ZOMBIE APOCALYPSE is shot well and looks great onscreen. The production value appears high, and the crew seems to have used their budget well. The writing is crisp and funny. And despite the vague plot synopsis above, the film offers more than enough material to keep viewers enthralled and laughing for 90 minutes.
The acting in ME AND MY MATES VS. THE ZOMBIE APOCALYPSE is very good, with a riotous cast that includes comedians Jim Jefferies, Alex Williamson, and Greg Fleet, as well as the beautiful Adele Vuko and the talented Matt Popp. The whole cast does a great job with their roles, and each plays off the other like they've been friends for years.
The special effects are excellent, and there's plenty of carnage to keep even the staunchest of gore-hounds happy. I am particularly impressed with how gruesome and realistic the disembowelment scenes are. When the zombies start munching on someone, the audience gets a face-full of entrails and guts. The zombies look good for the most part as well, however a few of the "background" walkers are only slightly made up, which drew my eye away from the action in the scene. This isn't really a negative, but more of an observation.
The humor in the film is plentiful, and there are few scenes that do not contain some form of gag or comedic crack. I don't think I've laughed this hard at a zombie comedy since SHAUN OF THE DEAD. As such, ME AND MY MATES VS. THE ZOMBIE APOCALYPSE is a big win for me, and fans of horror comedies will definitely want to give this film a chance. I'm sure glad I did.